A Boeing 767-375ER BDSF (N1217A) from Atlas Air (operating for Amazon Prime Air) has crashed during his approach in Houston (IAH/KIAH), the plane was en route from Miami (MIA/KMIA) as flight 5Y3591, and crashed into Trinity Bay and all 3 people are reported dead.
The aircraft crashed at approx 18:40 UTC.
Boeing Statement on Atlas Air 767 Cargo Airplane Accident February 23, 2019 – Boeing is deeply saddened to learn of the accident involving an Atlas Air 767 cargo airplane that crashed into Trinity Bay near Anahuac, Texas, shortly before 12:45 p.m. local time Saturday. We are concerned about the safety of the three people reported to be on board the airplane. We are prepared to provide technical assistance to the National Transportation Safety Board as it investigates the accident.
Brief Overview of N1217A:
The Boeing 767-375(ER) (msn 25865/430) was originally ordered by Canadian Airlines International in 1992, but not taken up by Canadian and instead delivered to Guinness Peat Aviation as a white-tail aircraft in July 1992, who then leased the aircraft to China Southern Airlines. After being sold to GE Capital Aviation Services, the aircraft was then leased to LAN Airlines, which operated the aircraft for 17 years within various divisions of LAN, before being returned to the lessor, by this time CIT Aerospace. CIT then leased the aircraft to Atlas Air, who then had the airframe converted to a freighter for use with Amazon Air at Paya Lebar Air Base, subsequently taking full ownership of the aircraft from the lessor upon completion of the conversion. According to FAA records, the airframe had accumulated more than 90,000 hours over 23,000 flights prior to its hull loss. The Boeing 767 aircraft was 26.8 years old at the time of the accident.
Granular ADS-B Data provided by FlightRadar 24: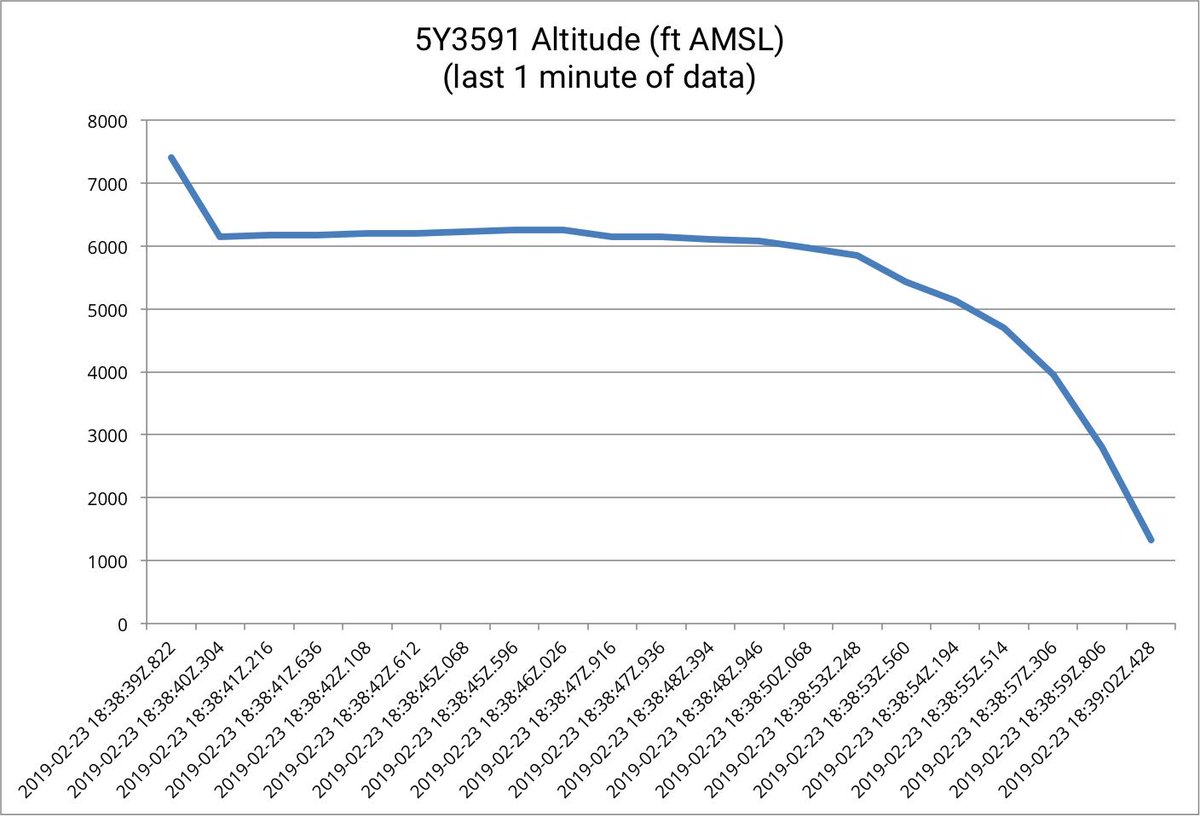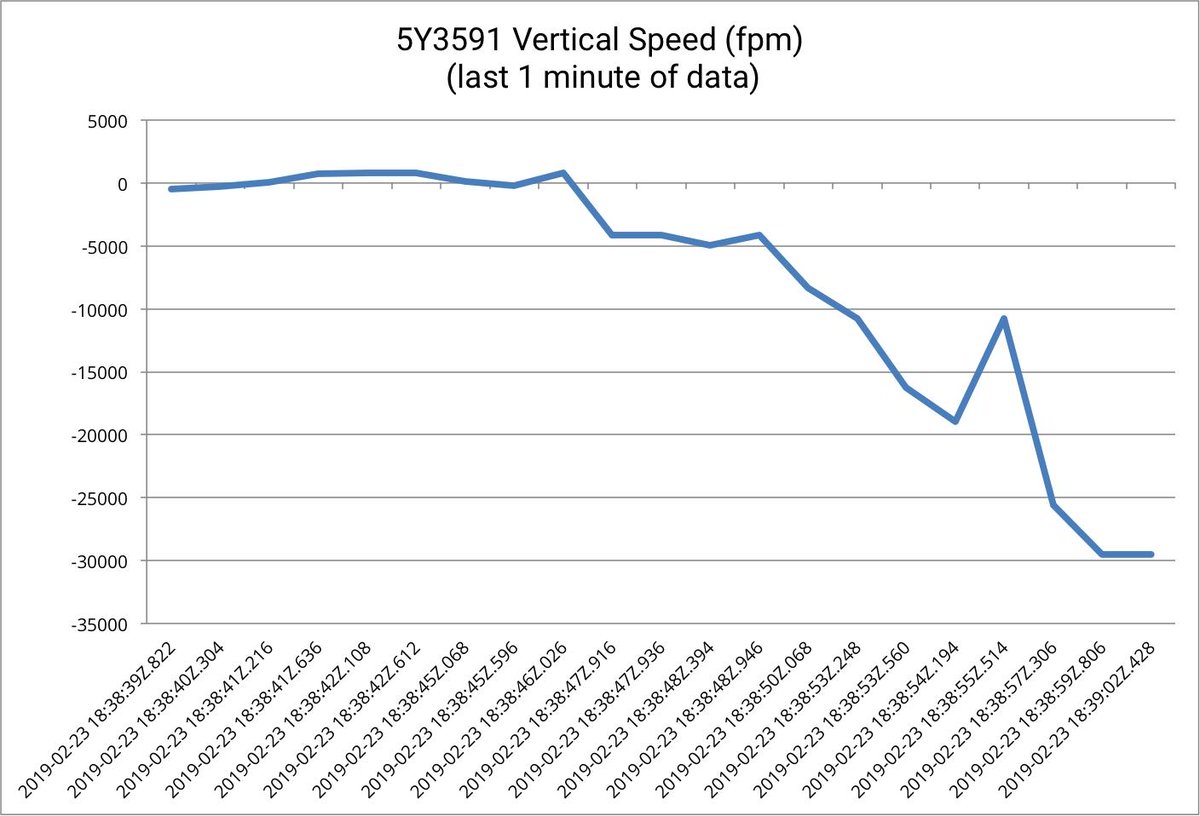 LiveATC Archive Record from Houston Approach Center:
Here is a portion of the audio transcript from Houston Approach ATC before the accident. At some time after the crash, the controller mentions that she's picking up an ELT signal.
An ELT Signal is Emergency Locator Transmitter.
It transmits on "guard" frequency of 121.5 MHz. All Air Traffic Controllers and majority of pilots do monitor the Emergency Frequency in regular basis. In most cases, the "guard" frequency 121.5 is used as an emergency frequency at times if the crew misses frequency change, enter restricted or hostile airspace, etc.
It's also the channel where Emergency Locator Transmitters broadcast their emergency signal. It sounds like a siren. Some ground stations and search and rescue aircraft have direction finding equipment that can help them pinpoint the location of the signal.
An ELT can be activated accidentally (due to a hard landing or broken switch), can also be accidentally switched on by the pilot, or in the event of an actual crash.
METAR Conditions at the time of crash:
KIAH 232053Z 31010KT 10SM FEW045 BKN210 OVC250 22/08 A2989 RMK AO2 SLP121 T02220083 57010=
KIAH 231953Z 31011KT 10SM SCT039 BKN090 BKN250 23/13 A2990 RMK AO2 SLP123 T02330128=
KIAH 231853Z 32011G19KT 10SM SCT035 BKN080 BKN250 21/12 A2991 RMK AO2 SLP129 T02110117=
KIAH 231802Z 32015G24KT 10SM FEW035 SCT060 BKN080 BKN250 22/12 A2992 RMK AO2 T02220117=
KIAH 231753Z 32014G19KT 9SM FEW020 SCT033 BKN060 21/12 A2992 RMK AO2 PK WND 33029/1701 WSHFT 1653 RAB01E13 SLP131 P0000 60000 T02110122 10261 20189 53015=
KIAH 231745Z 32009KT 9SM FEW020 SCT033 BKN060 20/12 A2992 RMK AO2 PK WND 33029/1701 WSHFT 1653 RAB01E13 P0000 T02000117=
KIAH 231713Z 32018G24KT 8SM BR SCT016 BKN020 BKN029 19/12 A2991 RMK AO2 PK WND 33029/1701 WSHFT 1653 RAB01E13 VCSH SE-S P0000 T01940122=
KIAH 231653Z 27010G15KT 5SM BR SCT015 BKN018 BKN029 24/22 A2988 RMK AO2 SLP119 VCSH S-SW T02440217=
KIAH 231615Z 24007KT 5SM BR SCT015 BKN019 OVC028 24/22 A2989 RMK AO2 T02440217=
KIAH 231553Z 19008KT 6SM BR BKN013 BKN019 BKN035 25/22 A2988 RMK AO2 SLP118 T02500222=
KIAH 231509Z 20008KT 5SM BR BKN012 BKN018 BKN055 24/22 A2988 RMK AO2 T02390222=
KIAH 231453Z VRB05KT 5SM BR SCT011 BKN017 BKN055 23/22 A2988 RMK AO2 SLP117 60000 T02330222 53018=
KIAH 231433Z 17009KT 5SM BR SCT010 BKN016 BKN055 23/22 A2987 RMK AO2 T02330222=
KIAH 231353Z 19007KT 5SM BR BKN009 BKN014 BKN055 23/22 A2985 RMK AO2 SLP107 T02330222=
Updates to follow.

Update 01/03/2019 22:19Z : NTSB (National Transportation Safety Board) announced that they found the Cockpit Voice Recorder, without any note about the damages.