Air France reveals out its travel cabins exclusive only for its Airbus A330-200s fleet, which has an average fleet-age of 16.1 years. The airline intends to fit the complete Airbus A330 fleet with newer lie-flat Business (36 Seats), Premium Economy (21 seats) and Economy (167 seats) cabins.
The first aircraft having the refurbished interiors is registered as F-GZCF, which flew its first flight as AF584. It is a triangle flight originating from Paris (CDG/LFPG), continuing its journey to Accra (ACC/DGAA) & Ouagadougou (OUA/DFFD) before returning back to Paris.
Until the end of the winter season, Air France announces that fliers will be able to enjoy these cabins on flights to Accra, Ouagadougou and Houston.
However from the 2019 summer season, the Airbus A330 with retrofitted cabins will also serve Cotonou, Lagos, Niamey, Bengaluru, Delhi, Seattle, Chicago and Dallas. As expected these are the routes which also are currently operated by Airbus A330 with older cabins.
Business Class
The Business Class seats are a massive upgrade for this type of aircraft in Air France fleet as they feature flat-beds. The older seats were angle-flat seats which would make travelers uncomfortable during longer stretch of flights. However the seating configuration remains the same as before with 6 seats in each row in 2-2-2 abreast that means a window-seat passenger will have to bump through another passenger if they want to move out of their seat. However, the new Business Class cabin product in Air France Boeing 777 fleet has direct-aisle access for all passengers with 1-2-1 configuration, which is a win-win case for passengers.
Premium Economy
Air France has mentioned their Premium Economy product has been designed as to give "relaxation and pleasure prevail".
However there aren't any significant changes in terms of offering except for new seat shell & seat design. The configuration remains the same with 7 seats each row in 2-3-2 abreast. The notable features of their Premium Economy Class Product as mentioned in their press release is as follows:
One of the widest seats on the market with 48.5 cm
102 cm seat pitch
Lumbar support adapted to different body shapes
Additional storage space
Wider footrest
A 13.3 inch HD screen
Other notable features include of this product is offering of two USB ports & a personal power outlet for each seat. Along with that comes a comfort kit which is renewed every six months. The Red Feather Pillow and Deep Blue Blanket is also available & has been standardized for Premium Economy Passengers.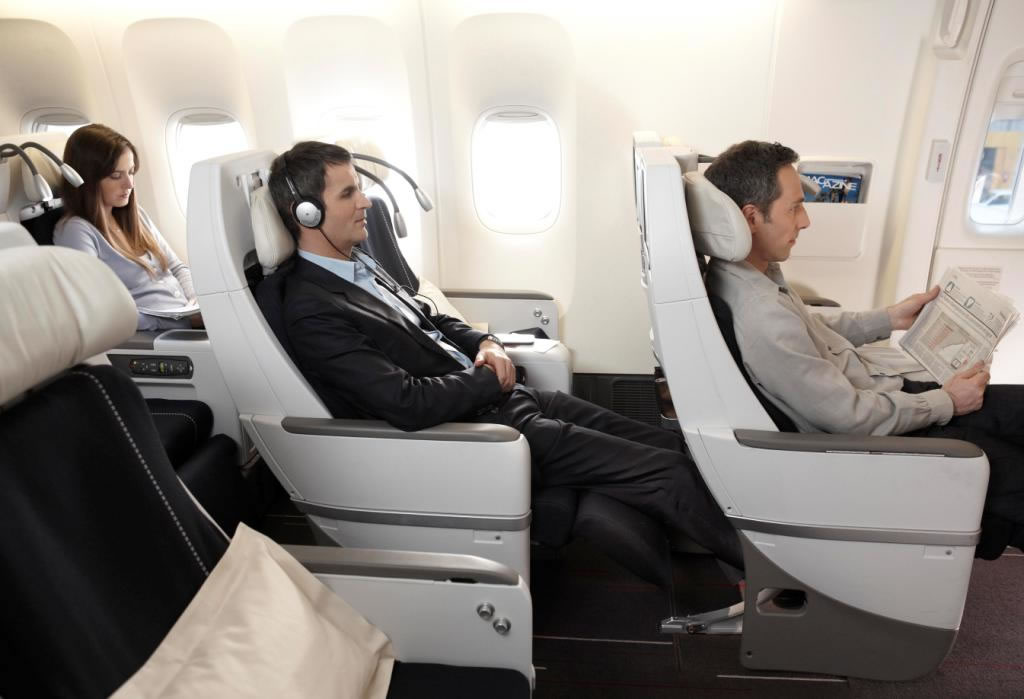 Economy Class
The seat layout in economy class remains in the same standard 2-4-2 abreast configuration, with 30 inch (79 cm) seat pitch. However what catches our eyes is the fresh color schemes used in it which gives out an aesthetic look for an Economy Class cabin.
There are some significant design changes in the new Economy Class product to provide more comfort for fliers: –
More space between the armrests
Reinforced ergonomic foam in the seat and a 118° recline
79 cm legroom (30 inch) – Average Legroom provided equivalent to its competitors.
A larger tray table
A wider, latest generation 11.6-inch 16:9 HD touch screen.
Conclusion
This is indeed another bold step taken by the airline after announcing that they will be dissolving Joon. A cabin refurbishment was highly needed for all the Air France aircraft which currently houses not-the-best cabin interiors when it comes to comparing it with it's European and Middle-Eastern Competitors. The 777-200ER/-300ER Fleet Refurbishment is also under-process, which features new cabin & seats, but is different as compared to what the A330-200 will be getting. However, in the end it is amazing to look how Air France is preparing itself to compete with other airlines in upcoming days with better restructure plan, newer cabin retrofits, etc.
Sources: Air France-KLM Press Release, FlightRadar24, ArisTravels.com, SeatGuru.